Other Locations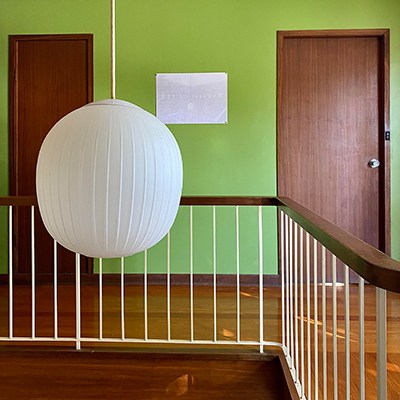 Heimo Zobernig
12 – 26 June 2021
Negative Press, Melbourne
Last December, Negative Press and Australian Fine Arts/David Pestorius jointly published a commemorative poster in connection with the John Nixon one-day memorial exhibition and panel discussion at the Pestorius Sweeney House on 7 November 2020.
A work of great subtlety and complexity, the poster is by Vienna-based artist Heimo Zobernig (Documenta 9, 10, 11), who deploys the tools of Photoshop to grayscale, render graphic and 'dematerialise' an installation view of the Nixon memorial exhibition. In the result, a ghostly ethereal space is conjured, with only the faintest touches of colour (determined by an algorithm) used to illuminate the Nixon compositions, their display and aspects of the surrounding architecture. Zobernig then introduces two interconnected layers of almost invisible text in his 'signature' Helvetica font. Only registering via razor-thin outlines in green – a nod, no doubt, to the inside/outside dynamic of the Pestorius Sweeney House – the text is laid out asymmetrically, initiating an uneasy tension with the strong symmetry of the 'dissolving' image. The first layer announces the event details while the second, in much larger type, reads "WOULD LIKE TO KNOW MORE ABOUT JOHN NIXON". Prompting curiosity, just as any good poster should, Zobernig's statement here is also something of a lament that his subject is not better known, including to himself.
The invitation to Heimo Zobernig, an artist renowned for his innovative and unconventional use of typography, points up the internationalism of John Nixon, whose first European exhibition was in London with the important conceptual art dealer Barry Barker in 1978. Over the following decades John regularly exhibited outside Australia, including at Documenta 7 in 1982, and he developed a large international network of artist friends and contacts, something which led to him publishing several anthologies of pages by a global rollcall of artists, including Heimo Zobernig, who honours that association with his poster.
Now, on the eve of Zobernig's second major survey at Vienna's Museum Moderner Kunst, the artist is evolving the graphic logic of his Nixon poster for solo exhibitions at the Pestorius Sweeney House and Negative Press; exhibitions that will see the poster presented with a wall painting and a video (created from documentation of the 7 November panel discussion), in a highly reflexive ensemble.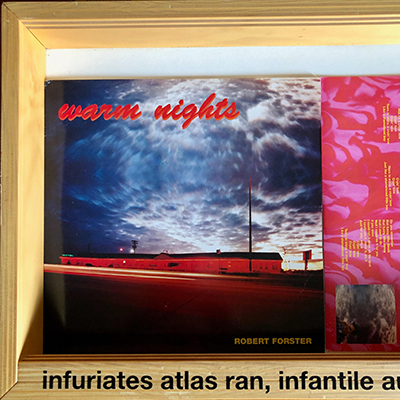 Australian Fine Arts @ Phase 4 Records
1 April 2019 – 31 March 2020
Phase 4 Records, Fortitude Valley
In 2019, Australian Fine Arts returns to @Phase4recordstore the small second-hand record shop in Brisbane's Fortitude Valley where in 2015 we presented a program of books from the personal libraries of artists, writers and musicians.
As in 2015, the new program will unfold in a wall display unit conceived in collaboration with New York artist Liam Gillick. However, on this occasion rather than books, the focus will be 12" vinyl records (LPs, mini-albums and EPs) from the collections of the exhibitors. And, like before, the only limitations are the spatial constraints of the display unit.
With the recent resurgence of interest in vinyl, this is a timely undertaking, one that wants to think critically about the 12" vinyl format today. What is at stake from a musical, temporal, visual, tactile, physical and conceptual perspective? We envisage that in responding to this question many possibilities will arise beyond the mere selection and presentation of a favourite album, although that is an option on the table here too.
The new program will get underway in April 2019 and comprise 12 displays over 12 months: as a subtle underscoring of the 12" vinyl format. Several participants in the 2015 program will return alongside others who will exhibit in the Gillick display unit for the first time.
The opening display is by the Düsseldorf artist Leni Hoffmann, who will present her graphic work for Robert Forster's 1996 album 'Warm Nights'. With Forster's new album 'Inferno' just out, the Hoffmann installation points up, amongst other things, how climate has long been a thematic device for the Brisbane singer/songwriter, who will himself participate in the program later in the year. Other confirmed participants include ANDRRA (Fatime Kosumi), Dave Hullfish Bailey, Brooke Ferguson, Ed Kuepper, John Nixon, Tim Page, Jan Timme, and David M. Thomas.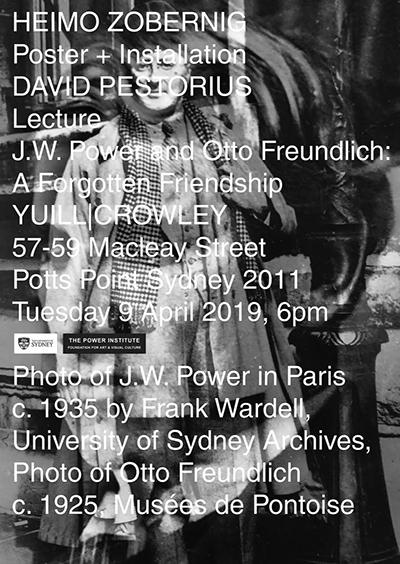 Heimo Zobernig + David Pestorius
9 April 2019, 6pm
Yuill/Crowley, Sydney
In 2012, the University Art Gallery at the University of Sydney restaged J.W. Power's 1934 exhibition at the Paris showroom of the Abstraction-Création group, with the accompanying catalogue adding much to our knowledge of the Sydney artist. One of the subjects touched upon there was Power's friendship with Otto Freundlich, the German constructivist who the Nazis singled out in their pre-war offensive against modern art, reproducing his work on the cover of the printed guide to their infamous 'Degenerate Art' exhibition.
Focusing on Power's links to Freundlich, this lecture is the outcome of recent archival research in France and The Netherlands and paints a vivid picture of the artist and his place in the Parisian art world of the 1930s. Of the revelations, perhaps the most remarkable concerns Power's role in the anti-fascist cultural resistance during the dark days leading up to the Second World War. It demonstrates that this man of wealth and privilege was not only committed to preserving the freedom of art, but also to social equality and egalitarianism, something that enables us to better appreciate what motivated his great bequest to the University of Sydney.
David Pestorius' lecture is being hosted by the Yuill/Crowley gallery and held in co-operation with the Power Institute at the University of Sydney. Introductory remarks: Professor Mark Ledbury, Director of the Power Institute. Installation and poster: Heimo Zobernig.
David Pestorius is an art historian, curator and the director of Australian Fine Arts in Brisbane. In the 1970s, he was taught photography by Fr Paul Gardiner SJ at St Ignatius College, Riverview, and soon after began to document Brisbane's post-punk culture. In 2004, he was awarded the Power Institute Studio at the Cité in Paris and it was there that he and Heimo Zobernig first shined a light on the activities of J.W. Power.
Adapted from:
http://www.powerpublications.com.au/9-april-6pm-j-w-power-and-otto-freundlich-a-forgotten-friendship/
Australian Fine Arts at Spring 1883
6 — 9 September, 2017
The Establishment, Sydney
Australian Fine Arts/David Pestorius is pleased to announce its participation in this year's edition of Spring 1883, with a selection of works from the CityCat Project, the ongoing (since 2006) collaboration between Los Angeles artist Dave Hullfish Bailey and Brisbane Indigenous community leader and writer Sam Watson.
In addition to the primary presentation in Suite 501, which will focus on Bailey's 'call-and-response' engagement with Watson's varying deployments of the Aboriginal flag in the CityCat Project, Watson will curate a film program for the foyer of The Establishment, the boutique hotel where Spring 1883 is held.
Dave Hullfish Bailey + Sam Watson: CityCat Project 2017
15 March — 8 April, 2017
Australian Fine Arts/David Pestorius at Neon Parc, Melbourne
Neon Parc is pleased to announce the exhibition Dave Hullfish Bailey + Sam Watson: CityCat Project 2017, an ongoing collaboration (since 2006) between Los Angeles artist Dave Hullfish Bailey and Brisbane Aboriginal activist and writer Sam Watson. Presented by Australian Fine Arts/David Pestorius, the curator of the project, the show bridges indigenous concerns and political action across geographic borders.
Building upon works first presented at the Pestorius Sweeney House in Brisbane last December, the exhibition includes photo and text-based works created by Bailey in the aftermath of a visit in October 2016 to the camps near Cannonball, North Dakota, where Indigenous leaders and environmental activists came together to resist construction of an oil pipeline that has destroyed sacred sites and threatens supplies of drinking water. The exhibition features photographs of the Oceti Sakowin (Seven Fires of the Great Sioux Nation) encampment — where the Aboriginal flag flew proudly near the main entry — alongside archival images of the Aboriginal Embassy media event in Canberra in 1972. Through these juxtapositions, Bailey frames parallels between the birth of the Aboriginal land rights movement and the current resurgence of sovereignty issues raised in North Dakota.
The exhibition will also feature documentary photo and video works relating to Bailey and Watson's collaborative Maiwar Performance on the Brisbane River (Maiwar). Staged in 2006, 2009, 2012 and 2016, the performance involves unannounced interruptions to the normal routing of Brisbane's popular CityCat ferries to highlight the colonial past of the river and reintroduce indigenous narratives. The location of the interruptions is both the site of an ancient Dreaming story and also the colonial boundary that excluded Aboriginal people from the city after dark. Seen by Watson as an important act of Indigenous empowerment, the Maiwar Performance seeks to restore agency to the Indigenous people living around Brisbane by bringing past narratives alive within the community, and by projecting the possibility of a future not definitively determined by the recent past.
A question operating just beneath the exhibition is the ways in which the Aboriginal Embassy and the ongoing encampments in North Dakota can be understood as incubators of inter-tribal solidarity and emerging pan-aboriginal identities at national and international scales. Bailey explores these themes through text-based works, including flags which conjoin formal aspects of the Aboriginal flag with the sentence "Wake Up Relatives" used by leaders to muster the water protectors to pre-dawn prayers and front-line actions during his visit to North Dakota last October. In these works the distinctive and highly elemental design of the Aboriginal flag comes to the fore, posing a visual synecdoche for the movement from concrete circumstances and local traditions to unifying abstractions and symbols. Transposing its signature red, black and yellow colours as fields for language re-opens questions of relation to their modernist cousins. Against the rise of nationalist movements worldwide, the flags become a series of problem objects which ask viewers to reassess the modern project 100 years in, and perhaps to reconsider their definition of 'relatives' in much deeper frames of time.
Coinciding with the show will be a number of related events, including lecture/performances by Dave Hullfish Bailey at Monash University, Caulfield Campus on Thursday 16 March and RMIT Centre for Art, Society and Transformation on Friday 17 March, while on Saturday 25 March the Australian Centre for Contemporary Art will host the official launch of Dave Hullfish Bailey + Sam Watson: CityCat Project 2006–2016, edited by Rex Butler and published by the Sternberg Press. The launch by Aboriginal activist and historian Gary Foley will be preceded by a Q&A session involving Foley and Sam Watson, both of whom were key participants in the Aboriginal Embassy media event, and be mediated by Paola Balla, co-curator of ACCA's current Sovereignty project.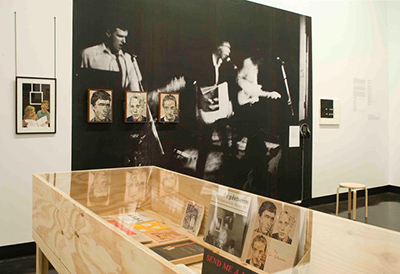 Jenny Watson's Original Oil Paintings
Talk by David Pestorius
16 August, 2016, 6pm
Griffith University Art Gallery, Brisbane
Join Brisbane curator David Pestorius for a discussion of the complex spatio-temporal dynamics of Jenny Watson's An Original Oil Painting (Black + White) (for Nick Cave), 1979 and its twin An Original Oil Painting (Pink + Blue), 1979, and how these works capture the esprit de corps of artists and musicians during the post-punk years.
David Pestorius at Spring 1883
9 — 12 September, 2015
The Establishment, Sydney
David Pestorius is pleased to again announce his participation in Spring 1883, this year at The Establishment below Martin Place towards Circular Quay.
While this downtown Sydney locale is today associated with business, finance and politics, it hasn't always been so. In the 1930s and '40s it was the epicentre of Sydney's avant-garde, Grace Crowley's studio situated just around the corner on George Street, one of many in the warren of buildings back up from the water. Then in the 1970s, after the artists had left, The Rocks was the backdrop to Ant Farm's performance Ned Telly and The Golden Spanner (1976). Commissioned by the Nine Network's A Current Affair, it was set in the shadow of the Harbour Bridge and brought to Sydney the American conceptualists' iconoclasm first seen the previous year at San Francisco's Cow Palace when they presented their notorious Media Burn (1975).
Pestorius' suite at Spring 1883 will conjure these moments with works by Ant Farm (San Francisco), Paul Bai (Brisbane), A.D.S. Donaldson (Sydney) and Melinda Harper (Melbourne).
In his work for the fair, A.D.S. Donaldson will show a new video/multiple, which brings together little known documentary footage of Crowley with the remarkable improvisations of Brisbane composer and guitarist Ed Kuepper (ex The Saints) performing around the quay at the Sydney Opera House.
For their part, Ant Farm will be represented by a rarely seen installation of Ned Telly and The Golden Spanner. Often exhibited as a video in Ant Farm retrospectives and surveys of media art (with Transmission: Legacies of the Television at the National Gallery of Victoria in Melbourne the latest instance of this), for Spring 1883 Pestorius will present The Golden Spanner itself, a sculpture last exhibited 40 years ago in the 1976 Biennale of Sydney at the Art Gallery of NSW.
Melinda Harper, on the other hand, one of the most innovative inheritors of the Crowley legacy, will be exhibiting a large painting, its wave-like composition a dizzying mix of colour that is both optical and material. That Harper is currently the subject of a mid-career survey at the Heide Museum of Modern Art, where in the hands of Sidney Nolan, Ned Kelly was first mythologized in paint, only enhances its shimmer.
Completing the presentation will be Paul Bai's Other Side The Ocean (20004), a small painting that further animates the maritime theme running through Pestorius' presentation for Spring 1883.
We look forward to meeting you at The Establishment in September.
Lyrics of Robert Forster
Edited by David Pestorius
Cover by Heimo Zobernig
April 2015
Kann-Verlag, Frankfurt
To celebrate the occasion of Heimo Zobernig's 15 year survey of his Australian works, the artist has collaborated on the production of a limited edition artist's book of lyrics by Brisbane singer-songwriter Robert Forster.
Edited by David Pestorius, the book is the first devoted to Forster's lyrics and includes more than 50 songs from all phases of his now four-decade long career with The Go-Betweens (1978–1989; 2000–2006) and as a solo artist (1990–1999; 2006–).
The selected songs are grouped thematically under headings (eg. 'Colour', 'Desire', 'Divide', 'Conquer', 'Contempt', 'Place', 'Point of View', to cite just some), which serve to enhance the often oblique nature and interpretative potential of Forster's lyrics. The book adopts a rough truth-to-materials approach, with the typography and layouts from original album sleeves and CD booklets redeployed where possible. The book also includes a brief biographical entry, a discography, and a small selection of illustrations that constitute a parallel narrative, which points up Forster's historical engagement with artists and the world of art.
Lyrics of Robert Forster was published by KANN-Verlag, Frankfurt, 2015, 21 x 14.7 cm, b&w, 140 pages, perfect bound, with offset printed cover by Heimo Zobernig, in a limited edition of 120 copies.
Ant Farm 1976–1978 Australia
16 August 2014, 5pm
David Pestorius at Spring 1883, Suite 130, Hotel Windsor, Melbourne
The San Francisco conceptualists Ant Farm (1968–1978) are famous for their radical architecture (The House of the Century, 1973), iconic land art (Cadillac Ranch, 1974), and pioneering video/performance (Media Burn, 1975).
Much less well-known are Ant Farm's projects in Australia. Yet it is undeniable that their 10 week visit to Australia in mid 1976 turned the group upside down in more ways than one. Importantly, the focus of their work shifted, with Oceania not only becoming an important base, but also a critical concept for the group. Central to this shift was perhaps Ant Farm's most ambitious project, the Dolphin Embassy (1974–1978), and in January 1977 the group's co-founder Doug Michels moved to Sydney to establish a consulate there.
Until now, the historical accounts of Ant Farm have misrepresented and misunderstood the nature and extent of the group's work in Australia. Equally, Ant Farm's projects are invisible in any account of Australian art.
Ant Farm 1976–1978 Australia is the first book devoted to the activities and critical reception of Ant Farm in Australia. It adopts a form favoured by Ant Farm — the time-line/photo-collage/book — and critically builds upon their monumental artist's book Dolphin Embassy (Log: 1976–1978), Sydney, Australia.
Ant Farm 1976–1978 Australia is published by KANN-Verlag, Frankfurt, 2014, 25 x 18 cm, b&w, photocopies, 155 pages, perfect bound, offset printed cover, edited by David Pestorius with cover by Liam Gillick, in an edition of 100 copies.
Ant Farm 1976–1978 Australia will be launched at Spring 1883 by Dr Edward Colless (Head of Critical and Theoretical Studies, School of Art, VCA), on Saturday 16 August at 5pm. After the launch, which is held in co-operation with World Food Books, all enquiries should be directed to the publisher.
David Pestorius Projects at Sydney Contemporary 13
19–22 September, 2013
Carriageworks, Sydney
David Pestorius Projects is pleased to announce its participation in the inaugural edition of 
Sydney Contemporary
 between 19–22 September.
Australia's new international art fair presenting modern and contemporary artwork, Sydney Contemporary 13 will present over 80 Australian and international galleries at the historical Carriageworks complex in Sydney's inner-west. Underscoring this international flavour, the David Pestorius Projects booth will be dominated by the subtle, light-infused monochromes of New York painter Joseph Marioni (*1943). Described by the doyen of contemporary art criticism, Michael Fried, as "paintings in the fullest and most exalted sense of the word", Marioni's work was last shown in Sydney at the Art Gallery of New South Wales in 2001. Alongside the Marioni paintings at Sydney Contemporary 13, Pestorius will present a selection of recent and not-so-recent works by artists he has long been associated with, including Paul Bai (Brisbane), Dave Hullfish Bailey (Los Angeles), Janet Burchill and Jennifer McCamley (Melbourne), A.D.S. Donaldson (Sydney), Andreas Exner (Frankfurt), Jens Haaning (Copenhagen), Melinda Harper (Melbourne), Gerold Miller (Berlin), Mark Webb (Brisbane), and Heimo Zobernig (Vienna). Augmenting this selection will be a few carefully chosen surprises from the gallery stockroom.
An important feature of the display will be a number of limited editions, including a new multiple by Danish conceptualist Jens Haaning (*1965) that will have an especially reflexive dimension in the fair context. Hand-painted IKEA copies of Alvar Aalto's famous stacking stool, the Haaning multiple is undoubtedly a parody of the deluxe item and what Marx called the "fetish character" that normally attaches to art. At the same time, it appears to reassert the pre-eminence of the original over its copy, and will perhaps remind Sydney art audiences of a moment, not so very long ago, when the city made an important contribution to international debates around strategies of appropriation in contemporary art.
Finally, for the curated "Installation Contemporary" sector of the fair, Pestorius will present a new work by A.D.S. Donaldson (*1961). From the outside a more or less minimalist box, Donaldson's Abstrakt Kabinen (2002-13) functions at the overlap of the avant-garde's engagement with so-called little architecture — think El Lissitzky's Kabinett der Abstrakten (1926) or Oskar Schlemmer's Lackkabinett (1941) — and contemporary installation, although Donaldson's work is remarkably low-tech. On entering, a light comes on and the viewer is able to manipulate a number of sliding panels on which a small collection of abstract paintings is hung. They are thus able to arrange the space to their own liking and, once seated, enjoy the work at their leisure while a small exhaust fan extracts stale air. Interactive and straightforward, Donaldson's work offers the viewer a radically intimate engagement with art and its structures.
Erich Buchholz
Minimalism in Germany: The Sixties ll
30 March—9 September, 2012
Daimler Contemporary, Berlin

A scale model that German artist Erich Buchholz (1891–1972) made of his 1922 Berlin studio — the first modern installation in art history — and two other mid-Sixties Buchholz works that comprised the exhibition Erich Buchholz: Coloured Rooms (Pestorius Sweeney House, Brisbane 2001), have been reconfigured as a special room display for Minimalism in Germany: The Sixties ll at the Daimler Contemporary, Berlin.  In 1922 Buchholz began to modify his Berlin studio, which was also his home, by removing or painting over its ornate wallpaper and adding brightly coloured geometric planes and relief elements to create a coherent abstract environment. In extending painting into architectural space, Buchholz pioneered the 'art into life' ambition of much 20th Century modernism. Buchholz's Berlin studio predates other more well-known artistic environments, such as El Lissitzky's Proun Room and Kurt Schwitters' Merzbau (both artists having visited Buchholz in his studio), and Piet Mondrian's Paris studio. During the 1920s, it was also an important meeting place for the Berlin Dadaists and other members of the Central European avant-garde.
The Buchholz model was brought to Australia when the artist's daughter, Mo Wedd-Buchholz, migrated in 1974. At the time, Buchholz's extra-spatial achievement was not widely recognised in his own country. It has since been the subject of important exhibitions, including at the Queensland Art Gallery in 2000, while leading Australian art journals have published new scholarship in relation to it. Notwithstanding this, Australia's public galleries evinced no interest in securing the Buchholz model for Australia. Not since Basil Burdett's 1939 Exhibition of French and British Modern Art was warehoused in the cellars of the Art Gallery of New South Wales during the Second World War has such a significant artwork been so long in Australia, yet still manage to elude its state art museums.
The Buchholz model was recently sold to the Daimler Art Collection by Brisbane gallerist David Pestorius, the Australian agent of the artist's Estate. "I've got mixed feelings," Mr Pestorius said. "Of course, I'm pleased the model has returned home, but what this really highlights is the over-emphasis on figuration, and on landscape in particular, by our art museums, and just how little they value abstract art … they've never acquired paintings by Mondriaan or a Barnett Newman, despite their significance for successive generations of non-indigenous Australian artists, to say nothing of Aboriginal abstraction. Now they've missed the beginnings of installation art."
For Minimalism in Germany: The Sixties ll, Daimler has commissioned Viennese artist Heimo Zobernig (* 1958) to create a special display for the Buchholz model on the occasion of its, and in some ways Buchholz's, 'return' to Berlin.
Dave Hullfish Bailey
Lecture-performance
4 August, 2011
Auckland Art Fair


The lecture-performances of Dave Hullfish Bailey are discursive presentations that transform the conventional artist slide-talk format into an artistic medium in its own right. Via unconventional analytical approaches and a series of lateral extrapolations, Bailey makes often-humorous connections to his subject matter that echo and elucidate his material production. Bailey's lecture-performance for the Auckland Art Fair (4–7 August), will reflect upon the procedures and implications of the
CityCat Project
, a collaboration with Brisbane Aboriginal activist and playwright Sam Watson that has been ongoing since 2003. In addition to his lecture-performance, Bailey will present selected aspects of the material production from the CityCat Project in the booth of David Pestorius.
Dave Hullfish Bailey's visit to New Zealand was organised by David Pestorius Projects and realised in co-opertation with the
Auckland Art Fair
.
Heimo Zobernig's Diamond Grid Paintings
David Pestorius Lecture
19 February, 2011, 2pm
Friedrich Petzel Gallery, New York

This lecture is being held in conjunction with the Heimo Zobernig exhibition (17 February– 26 March) at the Friedrich Petzel Gallery, New York. The lecture will track the evolution of Zobernig's diamond grid paintings, a work group that was commenced in mid-2004 and which today has a strong presence in the artist's wide-range oeuvre. For further information:
http://www.petzel.com/news/heimo-zobernig/
Punk Super 8 in Brisbane: Jeanelle Hurst, John Nixon, Gary Warner
Saturday, 7 May, 2010, 6–8pm
The Ian Potter Museum of Art, Melbourne*
"What interests a Dadaist is the way he himself lives..." (Tristan Tzara, Dada Manifesto, 1920)
Mirroring street style and contemporaneous popular music, a distinct art practice emerged in Brisbane in the punk/post-punk 'moment' of the early 1980s. Aware of, and informed by, international currents in post-structuralist thought and No-Wave music, radical Brisbane artists nonetheless critically restructured these developments to their own creative ends. Through hybrid, performance-based events involving music, film, installation and performance, the artists in this film program challenged the revered art object as the fetishistic depository of beauty, and, like the Dadaists their work has been compared to, celebrated the power and pleasure of the instantaneous moment. Made in an era of repressive conservative rule and general cultural stagnancy, these Brisbane punk films provide a fascinating glimpse into the experiences of the artists who made them: Gary Warner, John Nixon, and Jeanelle Hurst. Projected from the original Super 8 and preceded by a short discussion by Danni Zuvela/OtherFilm.


* An event of the exhibition MELBOURNE > < BRISBANE:punk, art and after
Dan Graham - ROCK MY RELIGION (1982-84)
video, 55 minutes, black and white & colour, stereo sound
Thursday, 29 April, 2010, 6–8pm
Cinema A, Gallery of Modern Art, Brisbane
Saturday, 1 May, 2010, 6–8pm
The Ian Potter Museum of Art, Melbourne*
Screening + Dan Graham in conversation with David Pestorius


"Basically I would just go up to Dan's apartment and we would talk about music every day" (Thurston Moore)
"One of the most important texts on the theory of rock music" (Diedrich Diedrichsen)
"Rock My Religion marks this point where he really went beyond the white page and the beautiful type-set design of conceptual art." (Tony Oursler)
"... it was magic, and there is a point at which magic goes away, and then it just became music again" (Glenn Branca)
"I always thought it was about architecture" (Kim Gordon)
"A work of anthropology" (Dan Graham)
* An event of the exhibition MELBOURNE >< BRISBANE:punk, art and after
Dan Graham's visit to Australia was organised by David Pestorius Projects and made possible with the assistance of The Australia Council for the Arts, Queensland University of Tehnology, The Ian Potter Museum of Art, OtherFilm, and the Queensland Art Gallery/Gallery of Modern Art.
MELBOURNE > < BRISBANE: punk, art and after
24 February — 15 May, 2010
The Ian Potter Museum of Art, Melbourne



Melbourne >< Brisbane: punk, art and after will trace the extraordinary interaction of the alternative music and art scenes between Melbourne and Brisbane during the punk and post-punk years, 1975–85. The exhibition reveals the entwined artistic and musical histories of the two cities through music, film, ephemeral publications, photographs and paintings by artists including Howard Arkley, Tony Clark, Brett Colquhoun, Peter Cripps, John Nixon, Peter Tyndall and Jenny Watson, and bands such as Anti-music, the Saints, the Go-Betweens, Nick Cave, the Birthday Party, Ed Kuepper, and the Laughing Clowns.
Guest curator David Pestorius, a Brisbane-based arts activist, says Melbourne >< Brisbane explores the development of artists' practice as a social and strategic experience. "The exhibition highlights a period when the repressive political regime at the time in Queensland drove the Brisbane avant-garde to a musically hungry Melbourne scene, with results that were often creatively explosive," he says. "And Melbourne artists happily took up the challenge to confront the prevailing Brisbane sensitivities.
"Crossing boundaries between art and music, gallery and gig, the exhibition reveals important strategies in the formation of a postmodern avant-garde, joining clusters of artists united by location, friendship, shared experience and interests.
"In Australia, punk music offered artists new strategies for collaboration (with artists forming as bands), new models for presentation (promoting and staging exhibitions as gigs), new channels of communication (the cassette, the record, the 'zine).
"Above all, punk musicians established new definitions of independent practice. The do-it-yourself mentality that drove punk music was transferred to the art scene, propelling the independent art spaces and magazines that were the foundation of vanguard practices in the 1980s."
Director of the Potter Museum, Dr Chris McAuliffe, says Melbourne >< Brisbane is an opportunity to declare the historical significance of art and punk music in Australia in the late 1970s and early 1980s. "The exhibition will connect audiences with contemporary art through issues and ideas strongly connected with everyday life and popular music," Dr McAuliffe says. "We retrace a time when Australian punk music led the genre (pre-Sex Pistols) and the creative vibe between Melbourne and Brisbane echoed the Paris/Moscow artistic frisson celebrated in the famous Beaubourg exhibition in Paris in 1979."
Melbourne >< Brisbane traverses painting, photography, installation, video, film, music and writing. It features rarely seen archival and documentary material, including extensive private archives of audio tapes documenting performances by artists' bands; Howard Arkley's personal photographs of his Melbourne 'Art tram' and Brisbane 'Muzak mural' projects (Brisbane, 1981); Tony Clark's early DIY operas under the Anti-Music banner; and Brett Colquhoun's personal dialogue with the late Grant McLennan.
Melbourne >< Brisbane also looks at a number of artist-driven projects that have called attention to this history, not only through its critical re-telling, but also via collaborations which demonstrate that the associations forged during the 'historical period' continue to resonate strongly into the present. Beginning with an important series of exhibitions organised by Peter Cripps at Brisbane's IMA in 1985-86, Melbourne >< Brisbane will also highlight more recent art/music projects involving Tony Clark, Robert Forster, and Ed Kuepper.
As part of the exhibition, New York artist Dan Graham will present a public screening of his film, Rock My Religion, an exploration of threads linking non-conformist religion, counterculture and punk rock.
(From the Media Release issued by The Ian Potter Museum of Art)